What is FUTURE SKY SAFETY?
Future Sky Safety is an EU-funded transport research programme in the field of European aviation safety, with an estimated initial budget of about € 30 million, which brings together 33 European partners to develop new tools and new approaches to aeronautics safety, initially over a four-year period starting in January 2015.
The first phase of the Programme research focuses on four main topics:
Building ultra-resilient vehicles and improving the cabin safety
Reducing risk of accidents
Improving processes and technologies to achieve near-total control over the safety risks
Improving safety performance under unexpected circumstances
The Programme will also help coordinate the research and innovation agendas of several countries and institutions, as well as create synergies with other EU initiatives in the field (e.g. SESAR, Clean Sky 2). Future Sky Safety is set up with expected seven years duration, divided into two phases of which the first one of 4 years has been formally approved. The Programme has started on the 1st of January 2015.
FUTURE SKY SAFETY contributes to the EC Work Programme Topic MG.1.4-2014 Coordinated research and innovation actions, targeting the highest levels of safety for European aviation in Call/Area Mobility for Growth – Aviation of Horizon 2020 Societal Challenge Smart, Green and Integrated Transport. FUTURE SKY SAFETY addresses the Safety challenges of the ACARE Strategic Research and Innovation Agenda (SRIA).
For a complete view on EC research & innovation please visit:
The EC Flight Path 2050 vision aims to achieve the highest levels of safety to ensure that passengers and freight as well as the air transport system and its infrastructure are protected. Trends in safety performance over the last decade indicate that the ACARE Vision 2020 safety goal of an 80% reduction of the accident rate is not being achieved. A stronger focus on safety is required.
Future Sky Safety, established under coordination of EREA, is built on European safety priorities around four main themes, each consisting of a small set of Projects:
Theme 1 (New solutions for today's accidents) aims for breakthrough research with the purpose of enabling a direct, specific, significant risk reduction in the medium term.
Theme 2 (Strengthening the capability to manage risk) conducts research on processes and technologies to enable the aviation system actors to achieve near-total control over the safety risk in the air transport system.
Theme 3 (Building ultra-resilient systems and operators) conducts research on the improvement of Systems and the Human Operator with the specific aim to improve safety performance under unanticipated circumstances.
Theme 4 (Building ultra-resilient vehicles) aims at reducing the effect of external hazards on the aerial vehicle integrity, as well as improving the safety of the cabin environment.
To really connect and drive institutionally funded Safety R&D (by EREA) to safety priorities as put forward in FlightPath 2050, the EC ACARE SRIA Safety challenges, and EASA's European Aviation Safety plan (EASp) and, EREA's Safety Research Coordination activities are planned. Focus on key priorities that impact the safety level most will significantly increase the leverage effect of the institutionally funded Safety Research and Innovation actions planned and performed by EREA Institutes.
The two main objectives of Future Sky Safety are:
Coordination of institutional safety research programmes
Collaborative safety research
Coordination of institutional safety research programmes will connect and drive complementary in-house Safety R&TD in the European aeronautical research establishments to safety priorities established by the EC in the ACARE SRIA on Safety and Security. This will increase the leverage effect of safety research and innovation, performed outside Future Sky Safety, by the EREA institutes.
Collaborative Safety Research will be performed only on safety risk priority areas. The five associated objectives, each addressed in one Technical Research Project, are:
Perform breakthrough safety research, in accordance with the EAPPRE priorities, to enable a significant reduction of runway excursion risk in the medium term.
Reduce the likelihood of organisational accidents in aviation via development and implementation of a Safe Performance System (SPS).
Develop a prototype risk observatory to assess and monitor safety risks throughout the Total Aviation System and allow frequent update of the assessment of risks.
Define and apply the Human Performance Envelope for cockpit operations and design, and determine methods to recover crew's performance to the centre of the envelope, and consequently to augment this envelope, through HMI principles, procedures or training.
Develop solutions to mitigate the risk of fire, smoke and fumes related (fatal) accidents.
The collaborative safety research Projects in Future Sky Safety are built on relevant safety priorities in Europe. Main European safety pillars are defined by ACARE SRIA Safety challenges, EU's Safety Management Policy, and the European Aviation Safety Plan (EASp). The long term aviation vision, issued by the EC as Flight Path 2050, includes safety as one of the most important European priorities: to achieve the highest levels of safety and security to ensure that passengers and freight as well as the air transport system and its infrastructure are protected.
The Future Sky Safety Programme links the EASp main pillars (operational issues, systemic issues, human performance and emerging issues) to the Flight Path 2050 Safety challenges.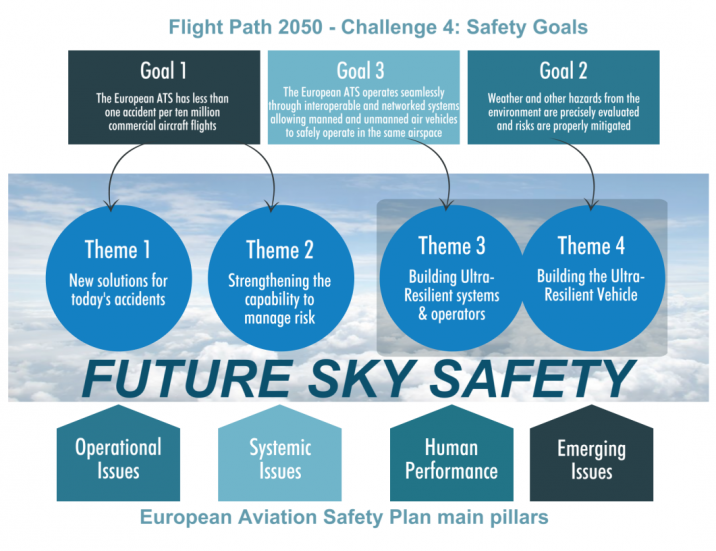 Future Sky Safety will contribute to the following expected impacts:
To reach by 2050 less than one accident per 10 million commercial aircraft flights, and an 80% reduction of the accident rate compared to 2000 for specific operations, in a system which includes all types of air vehicles, manned and unmanned, while preserving cost and time efficiency.
This aim is specifically addressed in all the five Technical Research Projects to be performed.
To gather pan-European critical mass, overcoming gaps, duplication and fragmentation, create a leverage effect, enhance coherence and efficiency of aviation safety research in Europe and underpin development of future safety regulation, operations and technology.
This will be achieved establishing a mechanism for the coordination of the institutional funded safety research that can be maintained with a low effort after the end of Future Sky Safety.
The members of the Programme Management Committee (PMC) of Future Sky Safety are introduced below.
Future Sky Safety Coordinators
Programme Manager

Michel Piers (NLR)

Michel, the Programme Manager for Future Sky Safety, is an Aeronautical Engineer with 29 years of experience in aviation safety. Michel has been a member of many international safety committees and working groups and is a member of the Steering Committee of ECAST and the International Advisory Committee of the Flight Safety Foundation and the chair of the Safety Analysis Team and the High Risk Incident analysis team of ECAST. He has been the manager of the Flight Testing & Safety Department which operates NLRs laboratory aircraft and the manager of a JAR-145 maintenance organization. From 2007 until 2013, he was the Director of the NLR Air Transport Safety Institute. Michel is currently a Principal Safety Advisor and Manager Air Transport Business in the Air Transport Division of NLR.

Operations Manager

Lennaert Speijker (NLR)

Lennaert, the Operations Manager for Future Sky Safety, is employed in the NLR Air Transport Safety Institute. He has more than 15 years of experience in preparation and management of EC aviation safety research projects. He is the Coordinator of the EC Project ASCOS (Aviation Safety and Certification of new Operations and Systems), from 2012 – mid 2015. Lennaert has ample experience as coordinator/manager of large multi-year research projects. Besides ASCOS, e.g. the EC Project ATC-Wake (2002-2005) and a multi-year research project (2008 – 2012) on Unmanned Aircraft System Safety for the FAA. Lennaert obtained his PhD at the TU Delft in 2007 with a dissertation on risk models for aviation safety.
Project Managers
P1 Coordination of Institutional Funded Safety Research

Volker Krajenski (DLR)

Volker started working for DLR in 1992 in the field of composite structures and adaptive systems and was involved in the preparation and execution of several European research projects. In 2009 he changed to the Program Directorate Aeronautics and is now responsible for the coordination of the DLR involvement in European aeronautics research. Within this role, he is also the DLR representative in the EREA Aviation Research Group and the ACARE Implementation and Review Group.

P2 Dissemination, exploitation and communication

Marcello Amato (CIRA)

Marcello, with a background in Computation Fluid Dynamics (CFD), for many years was Head of the CFD Laboratory and Fluid Physics Unit at CIRA. Currently, he is Head of the Strategic Programming and Business Development Unit of CIRA ScpA. Marcello has an active role as CIRA representative in the following groups: Italian Representative in ACARE Member State Group and General Assembly; ACARE SRIA WG-5; ACARE-Italia (Co-Chair of the Council; chairing Group for European Affairs of ACARE-Italia); EREA-ARG (chairing 2006-2010, 2012-2013,2014-2015). He has participated in many EC R&TD funded projects in FP5, FP6 and FP7. He has been involved in EC funded projects related to support European research policy implementation: AirTN-FP6, Air-TN-FP7, AirTN-Nextgen (coordinating); CANNAPE, OPTI, OPTICS, CAPPADOCIA, GABRIEL; SAT-Roadmap, CARGO-Map, E4U.

P3 Solutions for runway excursions

Gerard van Es (NLR)

Gerard is a Dutch native who holds a BSc and MSc in aerospace engineering. He has an extensive background in aviation first with KLM (flight operations), followed by Fokker Aircraft (aerodynamics) and later with the National Aerospace Laboratory (NLR) in Amsterdam, the Netherlands. His current and past activities encompass a wide variety of aviation related topics on areas such as accident/incident investigation, safety assessments, flight data analysis, runway friction, aircraft performance analysis, and aircraft traffic control safety.

P4 Total system risk assessment

Joram Verstraeten (NLR)

Joram, the manager of P4 "Total system risk assessment", has a Master's degree in Aerospace Engineering and has more than seven years of research and consultancy experience in safety management of air transport. His main focus areas are safety management systems, safety assessments and risk mitigation, and risk modelling. He is involved in several European safety research projects, including the SESAR WPE Project ProGA – which he manages – and EC Project OPTICS, and in consultancy projects for CAAs, ANSPs and airlines.

P5 Resolving the organizational accident

Barry Kirwan (EUROCONTROL)

Barry has worked in the nuclear, chemical, petrochemical, marine and air traffic industries, in the areas of Human Factors, Human Reliability Assessment, Safety Culture and Safety Research. He is Safety R&D Co-ordinator for EUROCONTROL, and leads the OPTICS Project, which evaluates aviation safety research projects. He also co-chairs FAA-EUROCONTROL Action Plan 15 on Safety Research. In Future Sky Safety he leads P5, Resolving the organisational accidents, and contributes to P6, Human Performance Envelope.

P6 Human Performance Envelope

Marcus Biella (DLR)

Marcus received his diploma in psychology 1999 from the Technical University, Braunschweig. Since 2000 Marcus is with DLR Institute of Flight Guidance. From 2001 to 2004 he was project manager of MOSES; 2005 co-project manager of EUROCONTROL project EVA; 2006-2009 project manager of sub project "Validation" within IP "EMMA2"; 2008-2010 project member of HUMAN (FP7); since 2010 project member in several SESAR projects in WP6. At the present time, is Head of the Human Factors Department (acting).

P7 Mitigating risk of fire, smoke and fumes

Eric Deletombe (ONERA)

Eric, the manager of P7 "Mitigating the risk of fire, smoke and fumes", is Special Scientific Advisor of the Aeroelasticity and Structural Dynamics Department of ONERA. He has been Head of the tructural Design and Dynamic Resistance (SDDR) Research Unit at the French Aerospace Laboratory (ONERA) from January 1999 till December 2009. He started at ONERA in 1991 as a Research Engineer and worked on the modelling of the crash behaviour of metallic aircraft structures. Key SDDR Research subjects concern: Metallic and Composites Materials, Joints, Behaviour, Damage and Rupture, Transient Dynamic Loads (crash, impacts, etcetera), and Fluid/Structure Interactions (ditching, explosions, …).